Από τ' ωραιότερο λουλούδι, εσύ ανθονήσι,
επήρες το γλυκόνομα που σε ομορφαίνει.
Πόσες στη θύμησή του, όποιος θα σε αντικρίσει,
λαμπρές κι αρμονικές στιγμές δεν ανασταίνει!
Ξυπνούν θωριές ευτυχισμένες που έχουν σβήσει,
ελπίδες φευγαλέες και στοχασμοί χαμένοι,
τ' όραμα εκείνης που δεν θα ξαναγυρίσει
ποτέ στη χλοερή γη τη μοσκοβολισμένη.
Ποτέ πια! Τον αντίλαλο γρικώ θλιμμένο. –
Δεν θα ξαναχαρώ τα μαγικά σου κάλλη…
Και τώρα πια θάναι καταραμένο
για με τ' ολάνθιστό σου το ακρογιάλι,
ω φλόγα του Υακίνθου, Ζάκυνθος εσύ,
λουλούδι της Ανατολής, Χρυσό Νησί!
Μετάφραση: Μαρίνος Σγούρος
Νέα Εστία – 1946
Ο Edgar Allan Poe δεν επισκέφθηκε ποτέ την Ελλάδα. Γοητεύτηκε για το νησί από το βιβλίο του François-René de Chateaubriand, "Itinéraire de Paris à Jérusalem" (1811) που μεταφράστηκε από τον Frederic Shoberl στα Αγγλικά (1814) "Travels in Greece, Palestine, Egypt, and Barbary, during the years 1806 and 1807".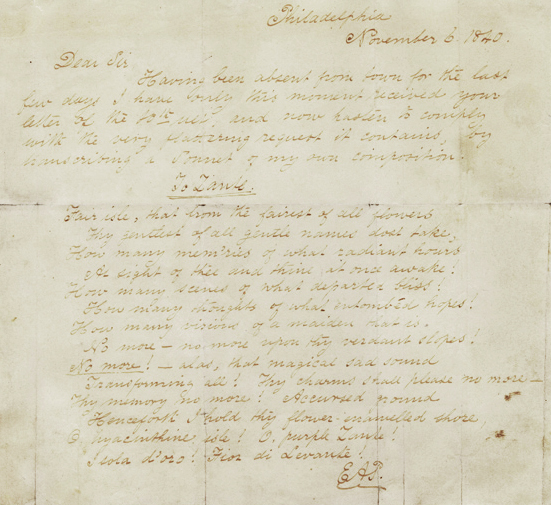 Άμα γουστάρεις, ακολούθησε το Περιθώριο στο Google News